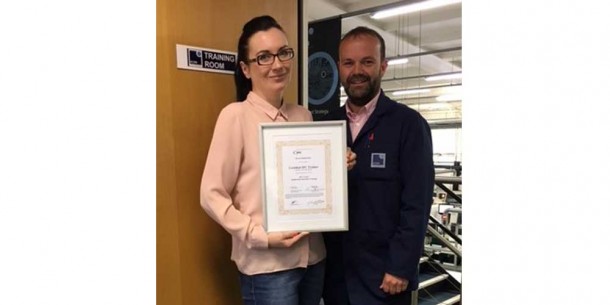 We are pleased to announce that Ewa Switakowska is our new in-house IPC-ICT trainer.  This is a fantastic achievement all round, especially for Ewa, who gained the accreditation with flying colours in such a short space of time.
Ewa has been with the Company since 2010. Commencing her employment as a Production Operative, she quickly progressed to Process Technician and now takes on the additional responsibility of the trainer role.
In terms of IPC-A-610 training the business is now completely self-sufficient and complements further the on-site training facilities at Icon. This accreditation gives us the opportunity to train colleagues and strengthen the onsite skill base, thus maintaining process and product quality to the highest level. It also further demonstrates our commitment to the training needs and requirements throughout the Company, in addition to supporting the needs of our Customers.
Neil Roper Manufacturing Manager congratulates Ewa on her Certificate.